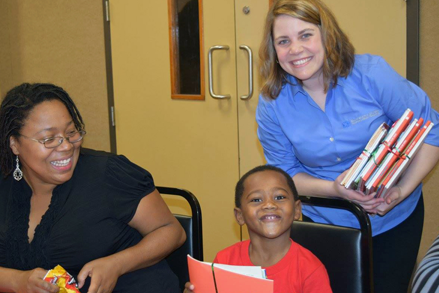 This past holiday season, Scholastic Book Fairs helped the Barbara Bush Houston Literacy Foundation boost its literacy cause by donating 15,000 books to economically disadvantaged families in the Houston area.
The donation was made through the Scholastic All for Books program and the Scholastic Possible Fund, which was established as part of the company's Open a World of Possible reading initiative to provide donations of quality books to children in underserved communities and in communities recovering from crises or natural disasters with the goal of improving global literacy.
A variety of books across genres were distributed to children in the nation's fourth largest city thanks to the help of nonprofit organizations, such as Crown Excellence, Houston Area Urban League, Kids' Meals Inc., The Kids' Reading Room, Legacy Community Health Centers, Literacy Advance of Houston, and Making It Better.
As part of this donation, books were distributed during planned holiday events. Kids' Meals Inc. hosted a free family lunch where each child was given a bundle of books to help build their home library and the Houston Area Urban League and the city's school district held education nights for parents, providing them with tips for reading with their children and the opportunity to select books to take home.
 
The Barbara Bush Houston Literacy Foundation was founded on the belief that if you help people to read, then their opportunities in life will be endless – which also is the conviction held by Alan Boyko, President of Scholastic Book Fairs.
 
"This donation of books is grounded in the hope that children will be inspired to become better readers and build on their own achievements," said Boyko, "Success fosters more success, and as children become more secure and comfortable in their reading habits, they will grow and create more opportunities for themselves."