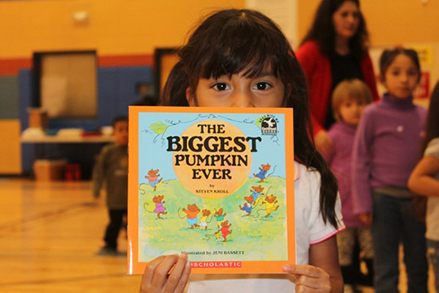 Thousands of inner-city children in Milwaukee have experienced the joy of owning and reading their own books thanks to a project started 16 years ago by one selfless Wisconsin boy.

Sam's Hope in Milwaukee today works in partnership with the Milwaukee Bucks basketball team, Scholastic Book Fairs®, and other sponsors to provide new books to children who otherwise may not be able to acquire their own.

"Our mission is to get new books into the hands of kids so that they're reading at home every day, because we know if they're reading at home, they're more likely to succeed in school," says Barbara Garner, president and cofounder of the literacy foundation, named after her son, Sam.

The book donation idea began as part of the family's sense of obligation to help others – in this case the inner-city children whose schools had sparse resources.

"We talked about how lucky Sam was to have books when there were kids in some circumstances who might never own a book," Barbara says. "He thought he should use the money he had saved to buy some books. Then he could read to the kids and donate the books.

"That's how it started," Barbara recalls. "We never really expected it to be more than a one-time project, but then people heard about what he was doing, and it bloomed into Sam's Hope."

And now, 16 years later, the project has donated hundreds of thousands of books to those children in need.
 
Scholastic Book Fairs donates 5,000 new books to Sam's Hope as part of its All for Books® program, a loose change fundraising drive held by schools during their seasonal Book Fairs. Scholastic matches the money collected by schools with a donation of up to $1 million in books to organizations like Sam's Hope and others that help children in underserved communities.
 
Sam's Hope also organizes book fairs on college campuses, where corporate partners and college volunteers come together with the same goal: providing new books for children. Sam's Hope uses profits from their book fair to buy books at the nearby Scholastic Book Fairs warehouse. The nonprofit organization does not take in any money, only books, which go directly to kids in need. They also receive books from families who often buy one to donate to Sam's Hope while shopping for their own books at the Scholastic Book Fair.

"The collaboration has just bloomed and has really been terrific in terms of making adults aware of the need in the central cities and schools, and the children they serve," Barbara shares. "Every single one of the books that Scholastic and others donate to Sam's Hope goes directly to kids."

At Sam's Hope annual distribution events with the Milwaukee Bucks, more than 2,000 children from seven schools are invited to pick out their own free books. The book tables are arranged by age and grade, and students become more invested in reading by browsing and deciding for themselves which books they want to take home.

"We don't hand a book to a child because if they're selecting their own book they're more likely to want to sit down and read that book," says Barbara. "Plus, we're telling them they now own the book, which is another big deal for the children. Our mission is to make sure kids own their own books at home."

The example of charitable service has inspired others to help. One young book donor was a 7-year-old boy who heard about Sam's story and decided to give his birthday presents to Sam's Hope.

"He told all the kids coming to his party, 'Don't bring me a present. Bring a book so I can donate it to kids who don't have any books.' And that's exactly what Jake did. He was a very gracious little boy," Barbara recalls. "It's such a good example because when you teach your children at a young age about giving back, they are much more likely to keep giving back on their own when they are grown up."

Building on their success, the organization launched a new annual initiative in Milwaukee last year, "Words Matter Because . . . " Children were asked to finish that phrase, and the winning entry was submitted by a sixth-grade boy who wrote, "Words matter because words are the pathway to freedom."

Garner said that sentiment is the perfect summation of the Sam's Hope project.

"It really touched me because the key to helping people out of poverty and out of unfortunate circumstances is to become literate and to become educated," she says. "And this little boy's phrase says it all."

For more information about Sam's Hope and the new Words Matter initiative,The Dave Project: A Legacy of Healthy Words, visit www.bucks.com/samshope.