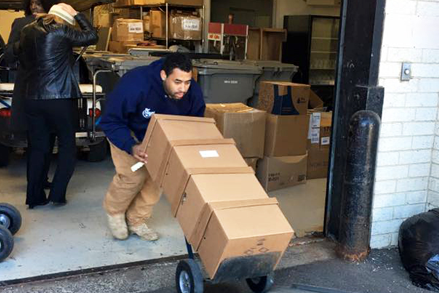 "All children should have books to call their own" is the slogan of Bridge of Books Foundation, a nonprofit organization that is striving to reach that goal in New Jersey – now with the help of Scholastic Book Fairs.
 
For more than a dozen years, Bridge of Books has collected and redistributed books to children in need. And then in 2015, Scholastic Book Fairs joined the organization's campaign, donating 40,000 books so far to help promote literacy.
 
The book donations were made through Scholastic's All for Books program and the Scholastic Possible Fund, which was established as part of the company's Open a World of Possible reading initiative to provide donations of quality books to children in underserved communities.
 
"We will go anywhere we can to find children who need books – schools, daycare centers, as many different places in the community as we can," said Abigail Daly, executive director of the foundation in Rumson, New Jersey. "Kids can never have enough books."
 
Daly said she grew up with books at home and she made sure her children had books, but that not all children are as fortunate.
 
"Many parents can't take their children to a bookstore or even have bookstores nearby," she said. We've tried to close the gap."
 
To help fill that need, the books collected by the foundation are redistributed to children up to 18 years old at community outreach events and through more than 100 agencies and organizations such as school districts, the New Jersey Youth Corps, the Department of Children & Families, and even a children's museum.
 
With the help of individual and corporate donations, Bridge of Books last year redistributed more than 120,000 books.
 
At every event, each child is given two or three books, so about 48,000 children around the state received books last year alone. Daly said the children are always excited because they have pride of ownership and can take the books home to read over and over again.
 
Sometimes the mission is extended to help lending libraries replenish missing materials "so kids won't get in trouble if they don't return a borrowed book," she said, adding that Scholastic Book Fairs is an example for other publishing houses and corporate entities.
 
"We're all doing this together. Scholastic should be commended for stepping up in the manner they have," she said.
 
"The research is clear. Every book Scholastic donates makes a difference in the life of each child who receives it. There's a pride in owning that book, and Scholastic is responsible for that."
 
To learn more about Bridge of Books go to http://bridgeofbooksfoundation.org.