It's clear the coronavirus is now impacting nearly every aspect of American life, including significant disruption for teachers and families as schools are ordered closed across states and districts all over the country. Scholastic has stepped up to do what we can to support the tens of millions of kids whose learning progress and, in some cases, access to healthy meals is being affected right now. Here are some free, helpful resources that are available to you and your community right now.
Jump to Commonly Asked Questions (for Book Fair Chairpeople)
---
Scholastic Learn At Home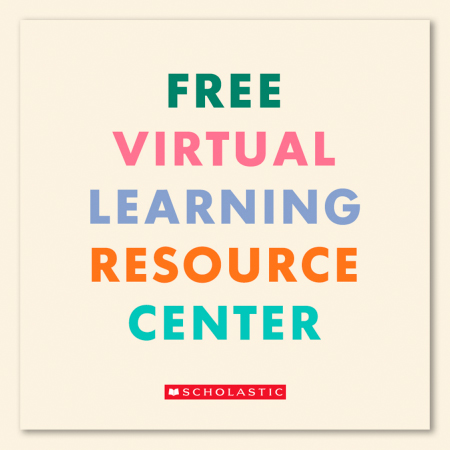 Scholastic has launched Scholastic Learn At Home, a free digital learning hub to support students affected by closures due to the spread of coronavirus. The hub provides virtual learning opportunities to help students stay academically engaged and learn from home.
The hub offers daily lessons for Pre-K – 9+ students, with instructions covering literacy, math, science, and social studies. It also includes writing and research projects based on stories and articles, virtual field trips, reading challenges, access to Scholastic Home Base, and more.
Teaching Our World: The Coronavirus
We have heard that many of your students are worried about the new coronavirus. Scholastic Classroom Magazines has created this collection to help you ease their fears and empower them with age-appropriate information. These teaching resources were carefully prepared by grade-level to help your students understand what is being done to keep them safe and how to prevent germs from spreading.
Virtual Read-Alouds
We are particularly sensitive to the needs of children to continue their learning and to reap the many benefits that literature brings them, especially during these challenging times. Scholastic fully supports providing a wide range of online learning activities for kids during this time of school closures.
We have been moved by the numerous requests we've received from teachers across the country who are trying to address these needs by posting readings of books online for students to access. We want to support these efforts and have given permission for our books to be read online, with select guidelines in regard to platform, notice, and duration of availability.
Please visit www.Scholastic.com/Read-Aloud-Permissions to learn more.
We would love to follow along with your read-aloud, so please tag us in your posts!

Twitter: @Scholastic
Instagram: @ScholasticInc
Facebook: @Scholastic
YouTube: @Scholastic
#SAVEWITHSTORIES
Along with potential learning loss, another consequence of widespread school closures is that 30 million children on free or reduced school meal plans will be left without an important source of nutrition. In response, Scholastic has partnered with actors Jennifer Garner, Amy Adams, Save the Children and No Kid Hungry to launch #SAVEWITHSTORIES.
This social media initiative features the actors (and some celebrity friends) sharing their favorite books and stories on social media and asking their friends to do the same. You can watch them here: https://www.instagram.com/savewithstories/
To learn more or get involved, visit SupportSaveTheStories.org.
Although we can't predict what the weeks ahead may bring, Scholastic will continue to do all we can to be a resource and partner to the teachers, kids, and families we serve during these uncertain times.
---
Commonly Asked Questions (For Book Fair Chairpeople)


If you are hosting or planned to host a Book Fair, here are some answers to questions you may have.
What do I do if there is a Book Fair currently at my school, and we're closed or will be closing?
If we're permitted into the school to pick up your fair, we'll make arrangements to do so when it's convenient for you or your administrators. If your school closes or suspends extra-curricular activities, please call us at 800-352-7186.
If we aren't permitted on campus, we'll work with you to schedule a pick-up when you return or as soon as we're permitted back on campus. Just keep us in the loop as you receive information so we can work with you. Again, in this case, simply call us at 800-352-7186.
Please Note: If you processed any sales transactions on your Scholastic EasyScan®2 register during your fair before your school closed, please contact our Customer Care department at 888-900-9364 if possible, so we can make special arrangements to retrieve your register.
My school is closed for the foreseeable future, or my school is open, but we cannot have events due to district/state guidelines. Is there a way to host a literacy event for our students in the meantime?
A Virtual Scholastic Book Fair
Easy and simple to host, a Virtual Book Fair takes less than 30 minutes to set up. Once it's up and running, your school community and extended families can shop online and help keep kids reading at home. Plus, all orders ship to the location of the customer's choice. To host a Virtual Fair for your school, please reach out to your Scholastic Book Fairs Representative through our Contact Us page.
A student-only Book Fair
This is a solution for schools that remain open for students, but all other events are canceled or guests are not permitted on campus. The Book Fair will be delivered as usual and students can shop on their own using Book Fair eWallet, our digital payment method.  Families can quickly create an online account and set a spending limit for their students to shop the fair on their own. 
Scholastic Reading Clubs
Your students can shop from flyers that are filled with affordable, quality books. The flyers include grade-appropriate titles that match each student's interest and reading level, and every book order placed will earn free books and resources for their teacher's classroom. 
Help! My Scholastic Dollars are about to expire. 
We will retain and honor current reward balances to make sure your school can take advantage. (Please note: we are still open for shopping and are actively shipping orders.) If you want to process an order and have it shipped to an alternate address, we can accommodate you.
As you shop online and are ready to finalize, before you select the option to SUBMIT YOUR ORDER, please call 1-800-799-READ. While you're on the phone with them, submit your online order and the customer care rep will adjust the shipping address to the alternate address you specify.
I'm concerned about low participation at my fair due to unanticipated closings and/or interruptions in our schedule. Will this affect the type of Book Fair I can host next year?
Not at all! We know you're dealing with many unknowns right now. We don't want this to be one of them. You will be eligible for the same type of Book Fair you had scheduled for spring of 2020.
I'd like to conduct a Virtual Scholastic Book Fair, but I have questions about this online-only Fair.
Please visit our Virtual Scholastic Book Fair FAQ section for more information.
---
If you have any other questions or concerns, please contact your Scholastic Book Fairs representative and let us know how we can help.